If I did all the cooking… we'd starve
December 2, 2010
Eating is one of my favorite activities on earth.  I love it.  I love fatty-fried-bad-for-me-food, I love ethnic foods, I love comfort food, I love healthy veggie food, any kind of food you want to throw at me, I'll probably devour it.
But I don't like to cook much.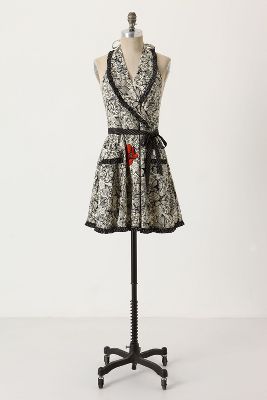 I want to like cooking.  I really do.  I asked for pretty aprons for my birthday and my fabulous new mother-in-law got me an adorable flouncy one from Anthropologie (above), and Jules made me one.  With squirrels on it– It's awesome.  I am fancy-apron spoiled now.  I figured given how much I like looking stylish and put together, maybe I would want to get in the kitchen more to wear my fab aprons.  It remains to be seen how successful this strategy might be overall.
The one thing I really love to cook is risotto.  I'm kind of obsessed with it and have pretty much perfected my method.   So much so that I bought a risotto cookbook and would love nothing better than to make every kind in there.  Risotto with onions, risotto with beef and mushrooms, risotto with pancetta and leeks, risotto with butternut squash (just to name a few of my previous successes).   If you have never had it, you need to try it– It is the most creamy delicious substance on earth.  I'll make it for you with pleasure.
Why is it that the one thing I really like cooking is a crazy pain-in-the-ass dish that requires lots of stirring and patience?  Maybe it's the lovliness of opening a bottle of wine (most risotto recipes call for some wine), pouring myself a glass, and just peacefully stirring.  There is something so methodical and wonderful to me about making risotto.  How can I find my risotto-zen in other types of cooking?  Maybe I need to institute a cooking cocktail hour?
D loves to cook and we own just about every cooking appliance, pot, and implement that anyone could ever want, so it's not like I don't have the tools.  However, for as much as D always tells me he wants me to cook more, he's a bit of a control freak in the kitchen, so I usually just end up doing prep work when I help out in the kitchen.  Maybe I need to assert myself a little more when we cook together– make him surrender the spatula, if you will.
I'm trying to make it a project over the coming months to start cooking for real, not just falling back on the 4-5 recipes that I am comfortable with and make over and over again.  I want to start experimenting with new types of food and new methods.  Keep me accountable, won't you, readers?