All that Glitters
November 22, 2010
Like some of my favorite bloggers, the Fug Girls, and like magpies, I LOVE anything with sparkles and sequins.
I love how its shiny.  I love how it's glittery.  I remember being a small child in the mall with my mom (in the sequin-crazy late 80s) and walking around the racks in department stores just looking at and touching all the sequined dresses.  They were like princess clothes.
But, can you wear sparkly, glittery things in real life and get away with it?  And can you sit down without all the sequins falling off?  You be the judge–
Adorable!  But I bet those sequins would be EVERYWHERE if you sat down
The Limited Sequin Tee- $49.90
Maybe a nice top under a blazer with some dark jeans?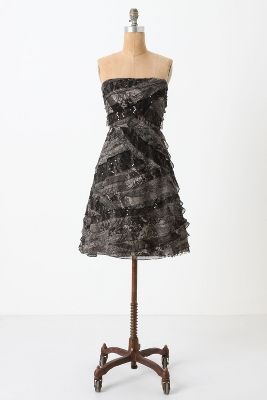 Anthropologie Curving Cloud cover dress- $398
That is an absurd amount of money for that dress… but SO pretty!
SL Fashion Sequin sheath $74.99
Simple, clean lines + sequins = classy?
Adrianna Papell Beaded sheath $298— Love how Mod 1960's this one is!
Banana Republic Jeweled Fold-over clutch- $98
What is your take on the sequins and glitter trend?  Can it be done?
I had desperately wanted to wear a sequin dress to my bachelorette party (because, I reasoned, what else can one wear a crazy sequin dress?), but couldn't find one that wasn't either itchy or trashy-looking.  I wish I had seen some of the lovelies above for a fabulous holiday party.